Whale-watching can be a great way to experience an incredible part of nature that we never get to see on land — so make sure you're prepared to experience it to the fullest! Whether you're whale-watching from shore or going on a cruise, careful planning is essential when you pack for a whale-watching trip. To get the most out of your trip, you will want to bring a variety of equipment, including clothes to protect yourself from the weather, a camera, and even binoculars to see these magnificent creatures up close.
Though you might have looked at whales in an aquarium, you will get the true sense of their enormity when you see them on your whale-watching trip. Though whales are graceful and beautiful animals, they are also very powerful and dangerous
Learn the best way to prepare for a whale-watching trip, including the equipment you'll need and how to get the most out of your experience.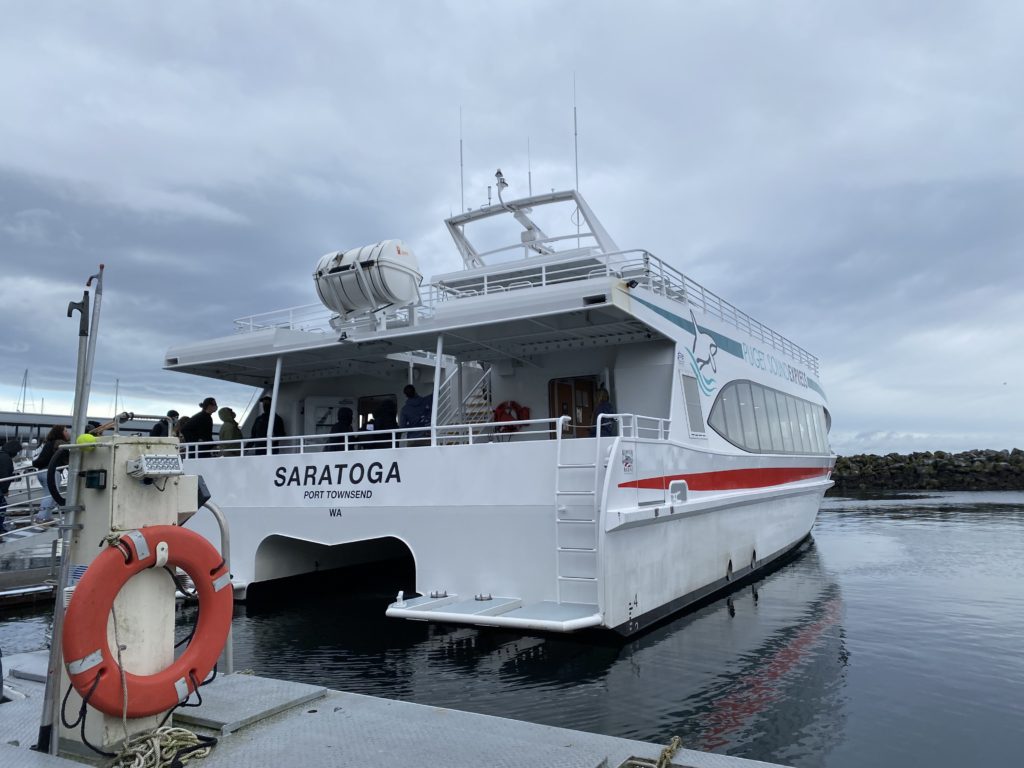 There are many options with Seattle whale watching trips – not all tours go to the same areas…
It's important to do your research before so you can have the best chances of seeing whales on your trip. There are areas where whales are seen much more frequent. You want to make sure your tour goes in those areas. 
The Puget Sound Express leaves from Edmond, Washington, which is about 40 minutes north of Seattle. They also have a second location that leaves from Townsend. These tours explore the Puget Sound
Fly2Whales allows you to drive 15 minutes south of Seattle and get on a seaplane to explore San Juan! If you're looking for a shorter drive and more unique experience this is a great option – as long as you don't mind the more expensive price tag.
Our whale watching trip left from Port of Edmond and went through the Strait of Juan de Fuca. We actually journeyed into Canadian waters which is where we saw the whales. Below you can see a fish symbol where we actually saw them. We were told this is a common area to see whales. Unfortunately, that was the only place we saw them.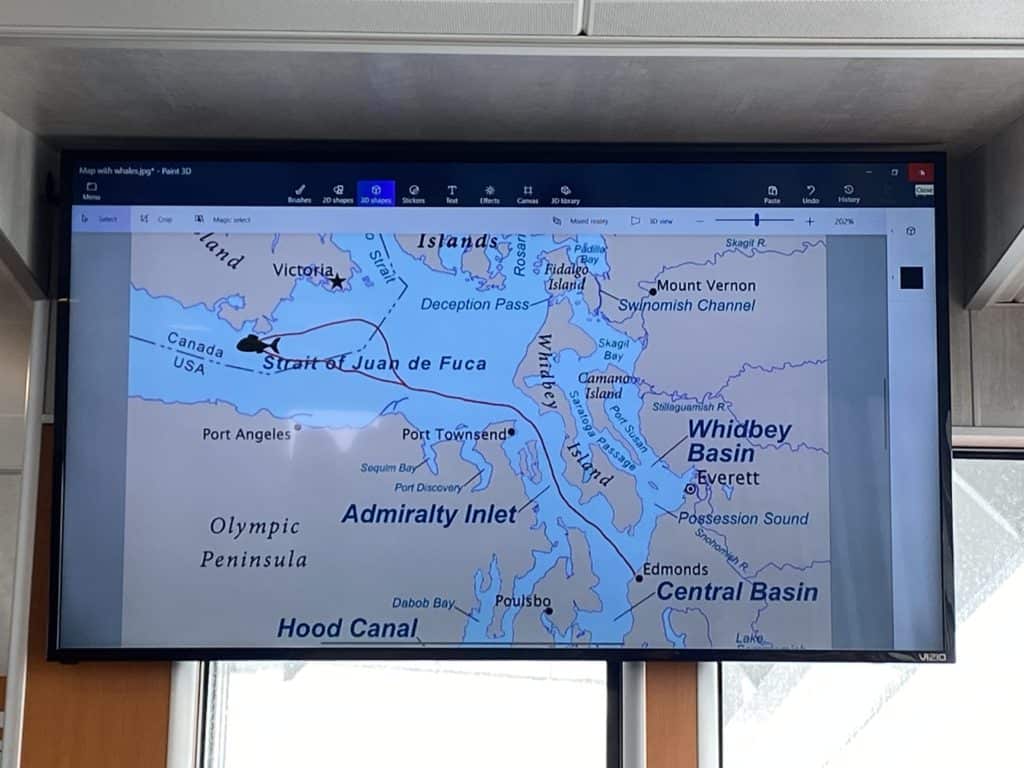 What to Bring on Your Whale Watching Trip
Experience is the best teacher, and it's better to be prepared than unprepared – both on land or at sea. As you know, we are going out on a whale watch today; so, I wanted to make a list of things that we need to bring with us. While this list will be very helpful when we purposely go whale watching, it will also come in handy for any time you take a trip and are not sure what the weather conditions will be like.
Warm Clothes – Hat, Gloves, Scarf & Coat
Unless you're going in June, July or August, we recommend bringing a hat, gloves and jacket at the least. It's smart to bring extra layers and even a blanket. It's cold out on deck. But trust us, that's where you'll want to be.
The outdoor decks have the best views of the whales and scenery. The mountains, islands and ocean are a close second to the whales – definitely not something you want to miss because you're cold. The glass definitely taints your view.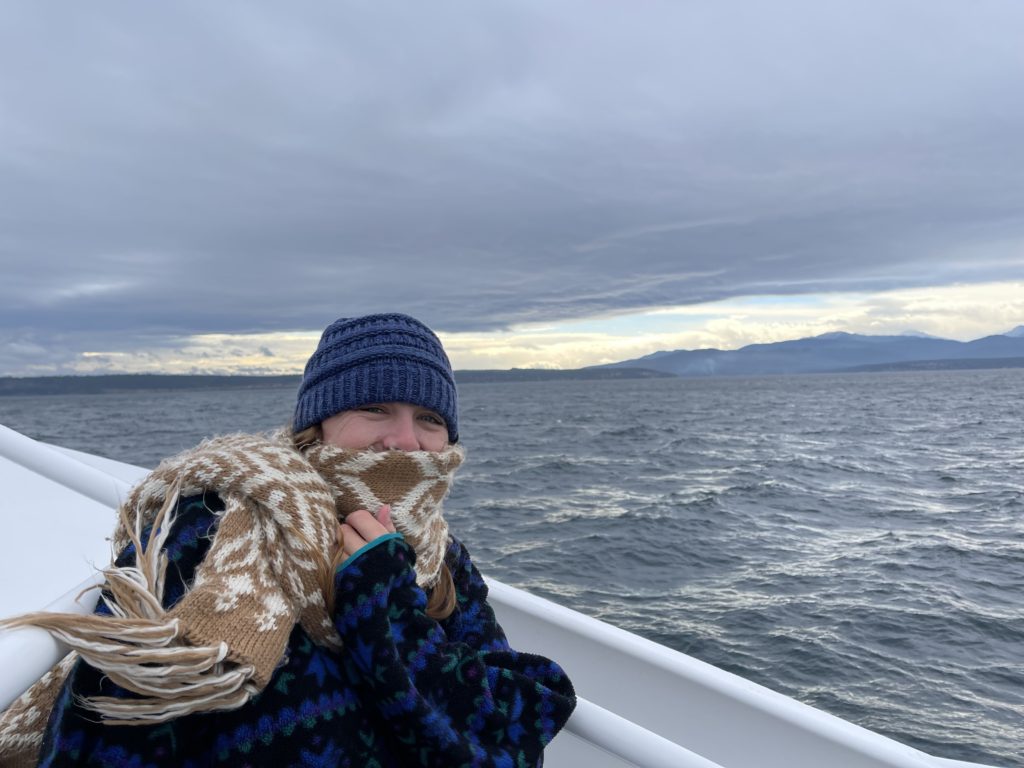 Unless you're going on your trip in the peak of summer, we recommend adding a blanket to your travel bag. It can get windy on deck. Combined that with the potentially rainy/gloomy weather and it's the perfect option.
It's also worth noting that it's at least 15 degrees cooler on the boat due to the wind. The day we went, it was even colder. We brought winter coats, hats, gloves, and scarves but we were still kind of cold. Be prepared or be cold. 
Contrary to popular belief, you can get sunburned in any weather. Considering yo'll be outdoors for 4-6 hours depending on the length of your whale watching trip, it's important to protect your skin. We recommend bringing a small container of sunscreen. Or, bring a hat instead – the best option is to use both though. 
No matter what the weather is like, you'll want to bring sunglasses with you on the trip. There's beautiful mountains and other structures, so you'll be looking out often. 
Even if you don't need them, it's better to be safe than sorry!
In order to see the whales up close, you'll need binoculars. Sometimes the whales can be far from the boat. 
We do recommend calling the whale watching company ahead of time to check if they supply binoculars. The whale watching boat we toured with provided them for free if you'd like. They were definitely helpful when viewing from afar! My sister and I used them A LOT! 
Fully Charged Phone or Camera
You will take a lot of pictures – enough to fill up your phone storage twice. There are just too many beautiful things to see. You don't want to miss anything.
If you want to take a lot of high-quality photographs, make sure you bring an extra-powerful zoom lens or a telescope from home, so that your photos will come out clearly.
The boat we toured on offered a boxed lunch, but it was quite expensive for what you got. We opted to bring our own lunches that we'd handpicked the day before. This allowed us to save a little money while bringing a better lunch than what was provided.
Our boat tour lasted nearly 6 hours. That's a long time without water. Be sure to bring a water bottle to stay hydrated. They do have a cafe/store on board, but the lines get long and the options are limited.
It's windy out there. If you're like us, your lips will want some extra lovin'. You'll thank us for this recommendation later.
Be Prepared to Wake Up Early for Whale Watching
If you"re planning to stay in Seattle, the closest whale watching place is nearly an hour away. 
Eat Breakfast Before Whale Watching
While we waited for the whale watching toue to begin, we had breakfast at a cute little spot near the marina. All the options were affordable with a side of local vibes.
You could see the ocesn from the small restaurant if you choose to ear inside. We did because it was misty and looked like it started to rain. There is also tons of outdoor seating available if it's a nice day…chances are it's not.
They do have a cafe/store on board, but
Like most things in life, the early bird get the worm. The worm being the best seats in this situation…
The earlier you get in line, the better seats you'll have to choose from.
As the boat fills up there will be less and less seats together. At some point there will be
When you're going whale-watching, the most important thing is to be prepared for any kind of weather. Be sure that you bring sturdy shoes and waterproof clothing to keep you safe and comfortable.
Other Tips for Whale Watching Tours
Keep Your Eyes Open at All Times
The crew of the boat is always on the look out for whales and other sealife, but passengers can also call out whales. On our tour, there were a couple of whales spotred by passengers first.
One of the best things about seeing whales is hearing them communicate. You can hear the …?