Grab a Bite at Armature Works (or Another Food Hall)
Having trouble selecting just one restaurant to eat at? Or are you unsure about the possible culinary preferences of your date? Why not traverse a food hall while eating? There are many different meal alternatives available in dining halls, thus there are many possibilities for everyone.
One of the best date night ideas in Tampa Bay is to embark on a gastronomic journey with your partner. Discover the many food stalls in the hall, divide up, and pick one that appeals to you individually, or combine meals to make your own tasty course! In Tampa Bay, there are a ton of fantastic food halls to visit, and more are always opening up.
+ Afterwards, walk along the Tampa Riverwalk to enjoy the beautiful views of downtown. 
Go Bowling at Splittsville
In search of more entertaining date-night suggestions in Tampa Bay? Go bowling and hit the alleys! At a nearby bowling alley, test one another's skills or learn how to strike it out together.
Most bowling alleys are equipped with drinks, food, and other entertainment options, providing all the essentials for a date in one location. Splitsville is one of our favorite destinations at Sparkman Wharf! Enjoy tasty snacks and all the excitement of bowling.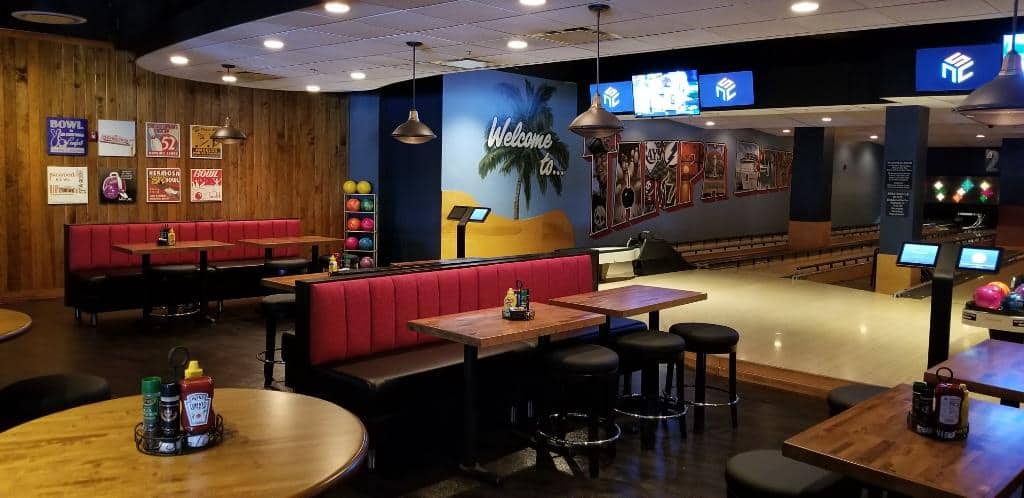 Cheer on The Lightning or Bucs, or Rays!
Date Night in Downtown St Pete:
The Dali Museum is the ideal location for a romantic date night with the art enthusiast in your life. As you peruse a vast collection of Salvador Dali's own artwork, you'll feel as though you're the only two individuals in the whole museum. On a few Saturday nights, the Museum will stay open late—the ideal setting for a romantic date!
Their most recent exhibition, "Picasso and the Allure of the South," features only Pablo Picasso's work, half of which has never before been exhibited in the United States. You'll get the opportunity to view Pablo Picasso's works that have never previously been displayed in the United States! To transform yourself and your companion into a piece of Cubist art, don't forget to stop by the "YOUR PORTRAIT" experience. Make sure to purchase your tickets in advance of your trip!
+ On Thursday nights, you can take advantage of their 50% off for a great date night deal!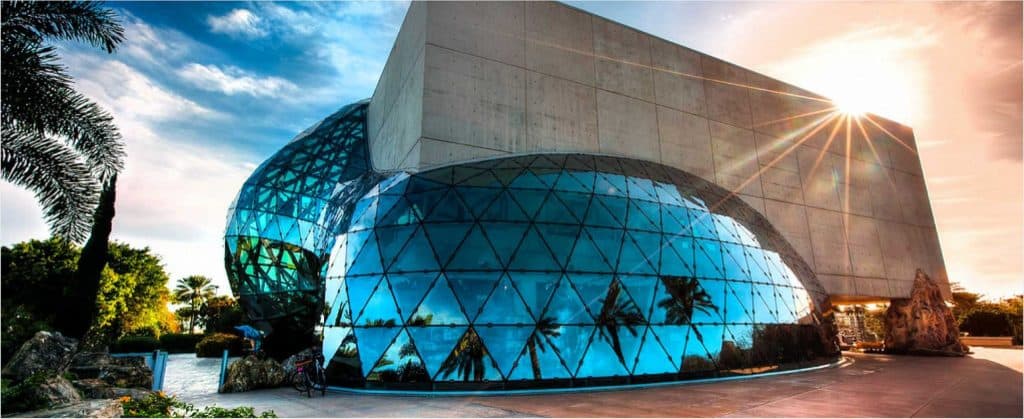 If you're a foodie (or dating one), you have to check out Taverna Costale in Downtown St Pete. The restaurant concept is from Chaf Fabio Viviani – you may know him from Bravo's Top Chef. 
There are countless cocktails and delicious dishes to try, including their bone marrow. Pretty much everything is a must-try though…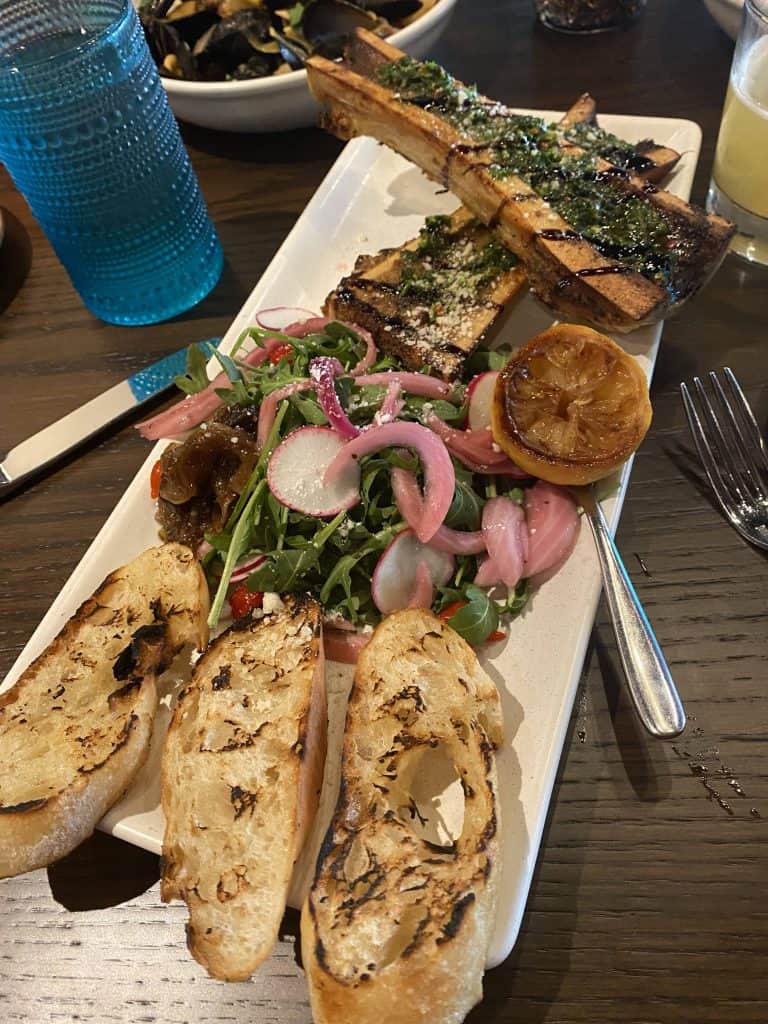 Enjoy a one-of-a-kind Omakase Sushi Experience
In the heart of St Pete there is a special sushi spot where you and your partner can enjoy an intimate experience together. Sushi Sho Rexkey is one of the best kept secrets in Tampa Bay! Each course is flown in from around the world and created right in front of you for a true foodie experience. 
+ We recommend getting the Saki Pairing for an even more special experience!
Cheer on The Rays & The Rowdys!
You have to support your team while you're in Champa Bay, so why not do it on a first date? Tampa Bay, home of the Rays, Buccaneers, and Lightning, has produced a number of champions and has several games worth seeing. This date night option in Tampa Bay, like many others on our list, enables you to enjoy romance while learning more about Tampa's culture.
In one of Tampa Bay's top sports bars, support your favorite Champa Bay team! Cheers to first dates and winning sports teams when you tuck into some spicy wings and split a bucket of beer.
Watch the Sunset at Hi-Fi Rooftop Bar
One of our favorite places to watch the sunset is at Hi-Fi Rooftop Bar at the Fenway Hotel. It's breathtaking.
While it is a little bit of a drive from the Tampa side (located in Dunedin), the view is well worth the drive.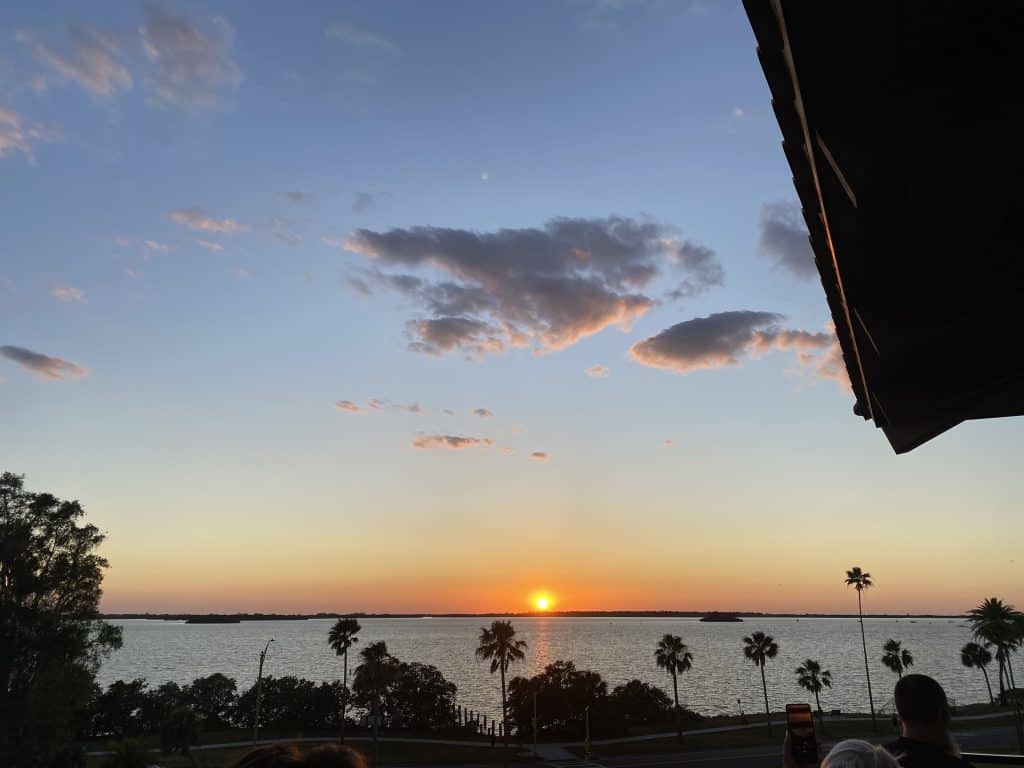 Catch a sunset with your date to see one of nature's greatest displays! & this spot is one of our favorites. If you're looking to impress your date, you're sure to here! They offer snacky food and drinks, but not full meals. 
+ Be sure to get there early as it's a popular local spot.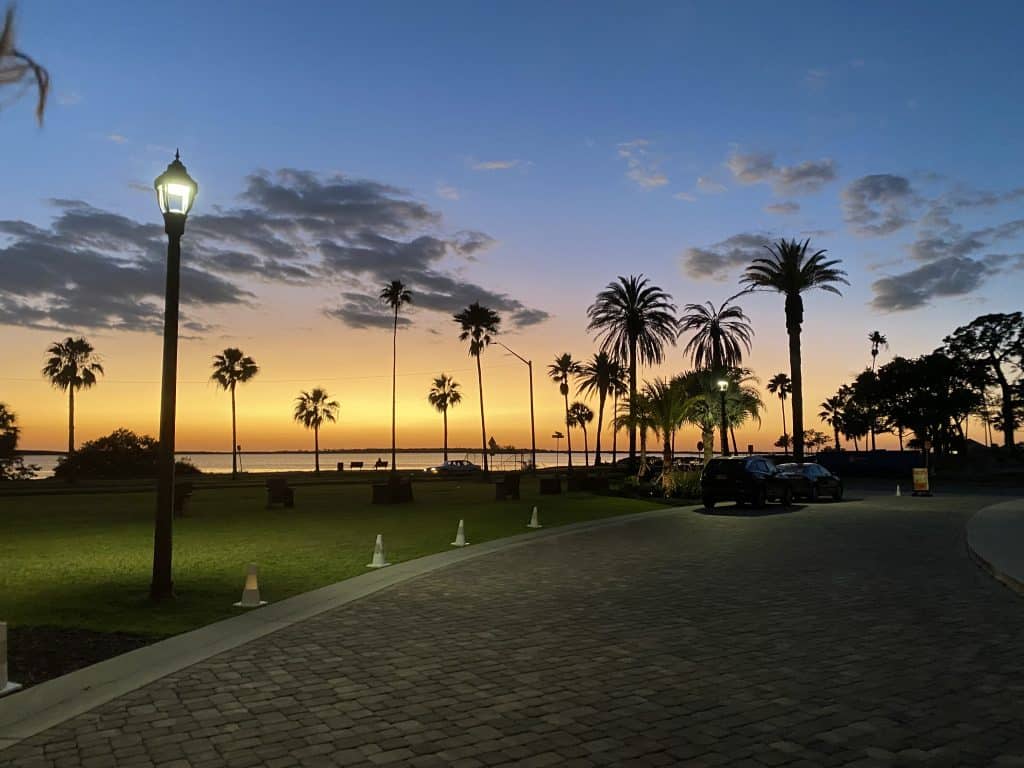 Meet Up At Happy Hour, Cheers!
Discounted beverages, homey fare, and a variety of offers to look into? Next on our list of date night suggestions in Tampa Bay is what seems like a delightful, laid-back excursion to enjoy! Go out for happy hour to enjoy specials and savory drinks at a popular Tampa Bay nightclub. Happy hours are known for their affordable drink selections, tasty combinations, and, did we mention inexpensive drinks?
Find out about all the hottest happy hours in town by visiting our list of Can't-Miss Happy Hours in Tampa Bay. Gain some savings while having a good time on a first date with a cheers at happy hour!
The View is Better From a Rooftop Bar
Take your date upwards for an amazing date and sweep them off their feet! With a mouthwatering beverage in hand, you may be perched among the birds while seeing the Tampa skyline, sandy beaches, and waterfront vistas. There are a ton of must-see rooftop pubs in Tampa Bay with extensive drink menus and stunning views over the city.
Rooftop bars are among the most romantic date night ideas for everyone to enjoy with the wind dancing around, music filling the terrace, and lights glistening below and above. Spend some time away from the outside world with your date while taking in the breathtaking scenery. The greatest date night ideas in Tampa can include this as one of your main priorities.
Visit a Nearby Brewery for a Beer
One of your date night ideas in Tampa Bay may be to get a beer at a nearby brewery. In one of Tampa Bay's top brewers, explore new flavors and enjoy old favorites. An enjoyable relaxed date idea is to hang out at a nearby brewery.
Breweries are a terrific place to go on a date, whether you're taking a tour or just relaxing at the bar while tasting their newest brews. Share beer flights, discuss your favorite tastes, and spend time together while enjoying a tasty hand-crafted beverage. Relax and take in the scene!
Spend Time Together Over Coffee
Next, let's enjoy one of our most romantic date suggestions in Tampa Bay! Spend some time cuddling up to your loved someone while drinking coffee! There are several different coffee cafes in Tampa Bay. On a nice first date, swap tales while sipping the newest seasonal flavor or get close and comfortable on a cushy couch!
You may discover something delicious to bond over at one of the many distinctive coffee shops in Tampa Bay, which can be one of your favorite date night ideas in Tampa, whether you like macchiatos, teas over coffee, or sugar-coated caffeine.
Visit a Nearby Farmers Market
Visit a market with your date and learn about the local craftspeople. Local markets are filled with delectable treats and works of art made by hand. Purchase a one-of-a-kind item for your date, share a mouthwatering home-baked cookie, and bring home a plant that you can look after together as your relationship develops. At a market, you never know what you'll find!
Our favorite markets are teh monthly Indie Market in St. Pete and the Farmer's Market in Ybor.
Watch a Concert
Rock and roll at one of the next concerts coming to town once you've located a dancing partner or another music enthusiast who shares your taste. You don't need to bother about organizing a ton of activities since concerts provide nonstop entertainment!
Rock out at the Yeungling Center, MidFlorida Credit Union Amphitheater, Seminole Hard Rock Hotel and Casino, Jannus Live, Amalie Arena, or one of Tampa's other outstanding entertainment venues. Tampa Bay welcomes a variety of celebrities to perform on its stage, including mainstream wonders like Justin Bieber and traditional artists like Elton John and Jimmy Buffet (s). For music enthusiasts, it's one of the ideal date night options in Tampa Bay!
+ Our favorite music venue is Jannus Live in St Pete. If you're looking for a fun date night, this is the palce to be for date night!